The INSPIRE Project Scholarship Fundraiser

Thank you for making this opportunity possible for 12 remarkable students (They are ready for lift-off!)
2017 TOTAL SOLAR ECLIPSE NASA RESEARCH EXPERIENCE FOR 12 WASHINGTON DC AREA STUDENTS

The INSPIRE Project has secured a once-in-a-lifetime STEM (Science Technology, Engineering, Mathematics) opportunity for 12 motivated and deserving Washington DC area high school students to participate in hands-on field research with NASA scientists at Austin Peay State University in Clarksville, Tennessee. The students will conduct research before, during and after the Total Solar Eclipse August 19th - 21st, an event that has not occurred in the United States in 38 years. Each of these 12 INSPIRE Space Academy alumni students are excelling in STEM disciplines both in the classroom and in extensive extracurricular activities/competitions since attending Space Academy as middle school students, a requirement of this program. This extraordinary opportunity will provide a solid foundation to propel each student's future STEM career path and help to create our next generation of scientists and explorers.
On behalf of Charis, Clark, Destiny, Isadora, Joshua, Bryce, Robert, Justice, Cristian, Julian, Colby and Nile, THANK YOU!
NASA INSPIRE Solar Eclipse Program Details
The 12 Space Academy alumni students will travel to to Austin Peay State University in Clarksville, Tennessee to join a NASA team from Marshall Space Flight Center for the Total Solar Eclipse. Students will conduct research with NASA scientists for 3 days. INSPIRE's VLF (Very Low Frequency) radio receiver will be incorporated in NASA's research. Below is a summary of planned NASA research activities (NASA-TV will be streaming live on-site):


Assist the UAH Space Hardware Club and UAH atmospheric scientists with balloon launches to learn more about how the atmosphere responds to solar heating and how/when clouds form
Assist with the Mobile Integrated Profiling System, which will take various types of data before, during, and after the eclipse
Assist with the Citizen CATE project, which seeks to learn more about the inner corona of the Sun by using identical equipment located at multiple stations along the path of totality to acquire 90 minutes of data
Make observations of animals (crickets and cows) to document effects of near-total darkness in the middle of the day
Use ionosondes to document and study ionospheric responses to rapidly changing heating conditions
Use ham radio frequencies and data mine the Reverse Beacon Network to study ionospheric changes during an eclipse
Use the INSPIRE VLF receiver to examine naturally occurring Very Low Frequency waves

About The INSPIRE Project Space Academy Scholarship Program
The INSPIRE Project is a 501(c)(3) educational non-profit co-founded by NASA scientist William Taylor in 1989. One of INSPIRE's most empowering scholarship programs is Space Academy for Students (launched in 2010) offered each summer for middle/high school students. It is an action-packed week of astronaut training at the US Space & Rocket Center in Huntsville, Alabama. The program attracts students to STEM disciplines, promotes teamwork and life-long learning skills, and builds self-confidence. For many of the students, it is the first time that they have been exposed to anything outside of their inner-city neighborhoods. The program truly changes lives and opens STEM career pathways. INSPIRE's first Space Camp scholarship recipient graduated in May 2016 in Computer Science at Howard University. INSPIRE has awarded 56 student scholarships to date. Learn more>

PLEASE CONSIDER A DONATION TO THE INSPIRE 2018 SPACE ACADEMY PROGRAM[email protected]
Special thanks to the sponsors, donors and volunteers for making this program possible!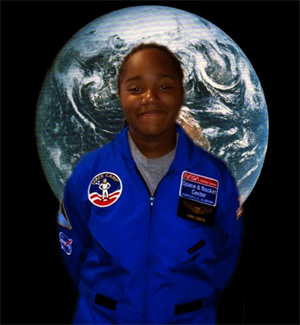 Charis – Lanham, MD
The experience really changes a person and allows you to see how and what resources you need to make your career dream come true – whether you want to be a scientist, engineer, etc. My goal is to one day become an aerospace engineer!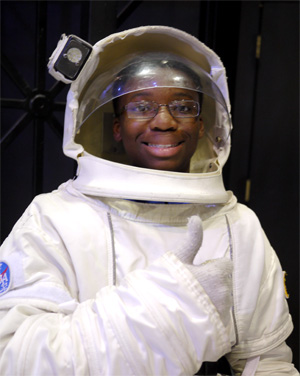 Clark – Washington, DC
We learned to work better with one another and what it means to be part of a team. It makes you understand that you must rely on your teammates because it could be a matter of life or death. And there is no "I" in TEAM.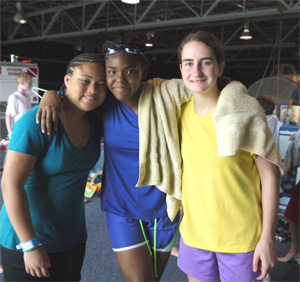 Destiny – Washington, DC (left) and
Isadora - Silver Spring, MD (right)
You learn there is more to the world than just where you live. Before Space Camp, I had very low confidence. Now I know I can do great things with life just like everyone else.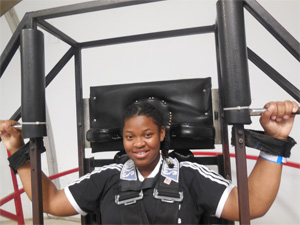 Colby – Washington, DC
After returning from Space Academy, I started my freshman year in Technology High School. In the fall, my team and I entered the "Battle of Baltimore" robotics competition and our team won 1st Place.